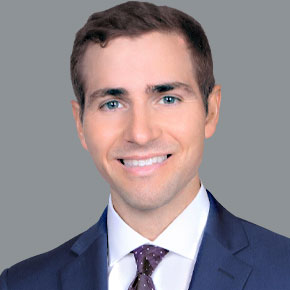 Nicholas Kolderman is an attorney with Howard O. Bernstein, P.C., who focuses his practice on intellectual property. Nick specializes in patent application drafting and prosecution in the mechanical, electrical, and computer software arts including automotive, smart sensor, wireless communication, computer networking, and machine learning technologies. He is also involved in managing patent portfolios, developing prosecution strategies, and assessing intellectual property aspects of business transactions.
Nick's expertise as an intellectual property attorney is uniquely informed by his engineering education, government knowledge, and private practice experience. Nick received a Master's in biomedical engineering from Wayne State University and earned his Juris Doctorate from The Ohio State University. Following graduate school, Nick served as a patent examiner for the United States Patent & Trademark Office (USPTO), in which he reviewed a broad spectrum of medical technologies comprising EKG/EEG/EMG circuits and electrodes, microelectromechanical systems (MEMS), and gait/motion tracking algorithms.
After several years at the Rocky Mountain Regional Office of the USPTO, Nick transitioned to the private sector as an associate for the law firm of Sheppard, Mullin, Richter, & Hampton in the San Diego (Del Mar) office. In private practice, Nick leveraged his inside knowledge of the USPTO to effectively draft patent applications, persuasively communicate with patent examiners, and efficiently satisfy the statutory requirements for obtaining a patent.
Now at Howard O. Bernstein, P.C., Nick has expanded his practice to include the intellectual property implications of business transactions and applies his firsthand experience in both the public and private sectors to successfully protect client innovations.
In his spare time, Nick enjoys ultimate frisbee, racquetball, and spending time with his young son and wonderful wife.