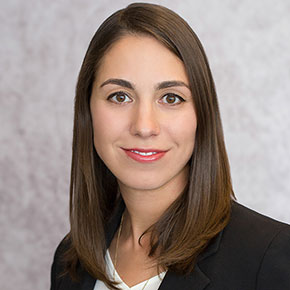 Colorado Business Committee for the Arts Volunteer Impact Award, 2021
Super Lawyers, Colorado Rising Stars, 2021
Super Lawyers, Colorado Rising Stars, 2022
Boulder County Bar Association Colorado Legal Services Pro Bono Award, 2016
University of Colorado Law Public Service Pledge Award, 2011
Colorado, 2011
U.S. District Court, District of Colorado, 2016
Bachelor of Science, magna cum laude, Music Industry – University of Southern California, 2007
Juris Doctor, University of Colorado Law School, 2011
Colorado Attorneys for the Arts (CAFTA) – Volunteer Attorney
Nederland Eco Pass Public Improvement District – Advisory Board Member
Copyright Society of the USA (CSUSA), Rocky Mountain Chapter – Co-Chair (2017-2021)
Boulder County Arts Alliance (BCAA) – Board Secretary (2017-2021)
Shirin Chahal's journey into the legal profession began rather unconventionally. As a child, she was passionate about creating art and music, drawing doodles on any piece of paper that happened to come across her path and learning to play as many instruments as her mom would let her, including the piano, violin, clarinet, french horn, bass and guitar. After an early career in the music industry working at a talent management agency, a booking agency and then a major publishing company, she changed courses and moved to Colorado to become a lawyer. During her time at the University of Colorado Law School, she concentrated her studies on intellectual property, telecommunications, technology and privacy law, all the while maintaining her passion for serving artists, designers and other business owners in the creative industries. Shirin worked as an articles editor for the Colorado Technology Law Journal, and her student note regarding privacy on social networks was selected for publication. Shirin also served as a legal research assistant for a professor at the law school, contributing to several published law review articles and course books on the law of business entities.
After graduating law school, Shirin worked at a national tax resolution firm. Today, Shirin enjoys being part of the team at Howard O. Bernstein, P.C. because its general practice offerings allow her to continue serving small business owners, entrepreneurs and those in the creative industries (visual artists, photographers, musicians, designers and authors). Due to her creative background, Shirin's passion is copyright law but she also advises her clients on a wide range of matters under the law of business enterprises, including entity selection and formation and tax compliance. She helps small businesses identify areas of potential liability in order to mitigate risks in their day-to-day transactions and operations, and provides ongoing general legal support with contract drafting and negotiation, non-disclosure agreements and the protection of trade secrets, commercial leases and other real estate transactions, regulatory laws, data privacy, intellectual property and more. Her commitment to the needs and interests of her clients remains a top priority for her in every aspect of her counsel.
When she's not working hard for her clients, Shirin devotes much of her free time to her community through pro bono, non-profit and volunteer work. She currently serves as a volunteer attorney for Colorado Attorneys for the Arts (CAFTA) and for the Boulder County Bar Association's free legal clinics, and also serves on the Advisory Board for the Nederland EcoPass Improvement District. She previously served on the board of directors for the Boulder County Arts Alliance and as a co-chair of the Copyright Society of the USA-Rocky Mountain Chapter.